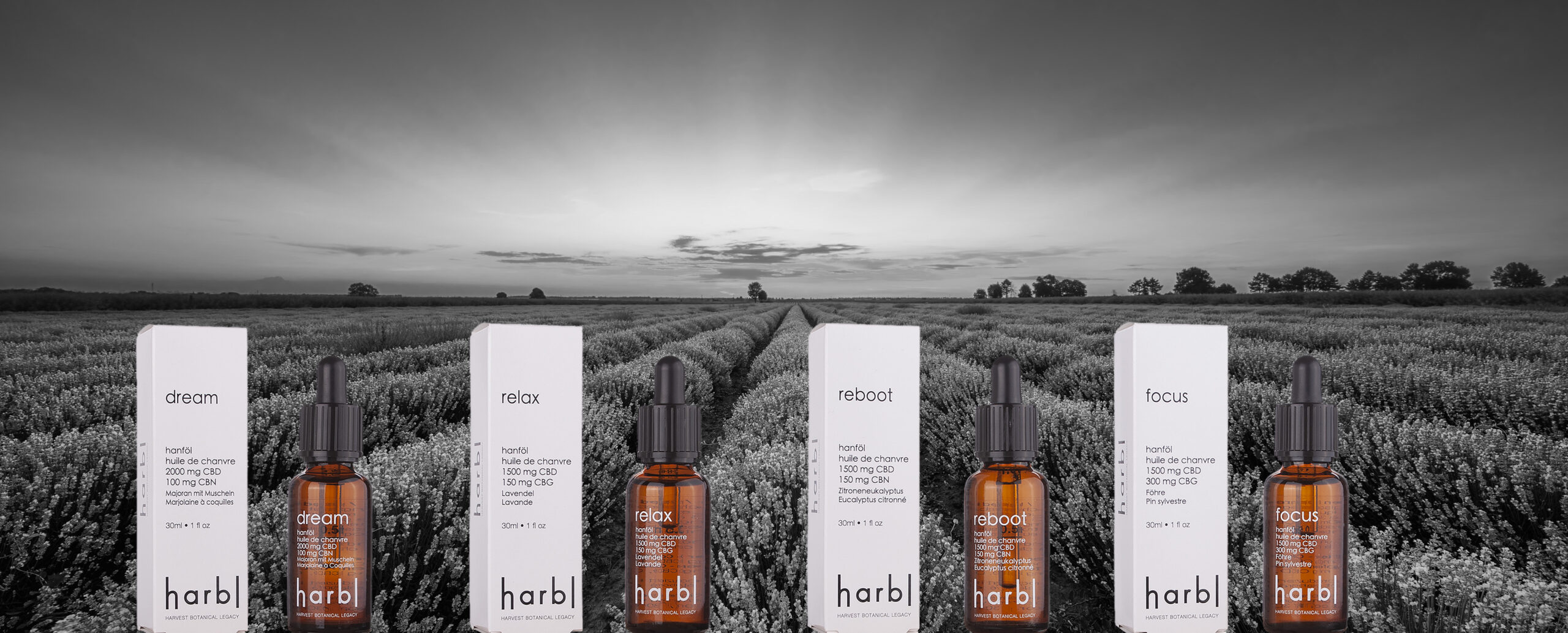 Harbl Effect
Cannabinoids (CBD, CBN, CBG) and essential oil formulas targeting specific emotional and physical modern tensions
Discover HARBL Swiss Botanic innovation's products, as well as the therapeutic virtues of cannabidiol and its uses. Our CBD oil is available in a 30 ml child-safety dropper bottle for a more precise dosage.
Our team extracts cannabidiol with CO2 before dissolving it in 100% Bio Hemp seeds oil which has been refined to remove the bitter taste but keep all its nutrients like Omega 3, Omega 6 and vitamin E.  
We produce all our CBD oils without any added artificial substances in Switzerland.
Our Cannabidiol oils guarantee extraction from organic hemp grown without pesticides or other harmful products.
CBD appears to have many benefits for improving certain physical and/or mental health problems. Various scientific studies have shown the benefits of CBD in the following situations: Anxiety, depression, cramps, inflammation, chronic pain, migraines, nausea, insomnia … HARBL offers you its CBD oil in a practical, elegant and easy to carry child-safety dropper bottle. This container also allows for more accurate dosing.
Effects of cannabidiol and cannabigerol
Hemp contains active ingredients that are believed to have many health benefits. This is particularly the case with cannabidiol (CBD) and cannabigerol (CBG). The combination of these two non-psychotropic cannabinoids offers a real sense of well-being, without an exaggerated high or a high risk of addiction.
According to recent scientific studies, cannabidiol reacts positively with the human body's endocannabinoid system. Its ingredients could relieve pain, stress and anxiety, but also promote sleep.
In general, the CBG oil + CBD would be a natural solution to relax your muscles and mind. Relaxation will undoubtedly be there! Cannabidiol would also have anti-inflammatory, antispasmodic, anxiolytic, anticonvulsant and neuroprotective properties.
Many people use CBG oil + CBD as a natural antidepressant. We recommend that you seek the advice of your doctor to treat any pathology with oil that combines cannabidiol and cannabigerol.
How to use HARBL EFFECT oils
Formulated CBD Oil has become one of the primary methods of delivering cannabinoids to humans.
It can be ingested by holding a few drops (as mentioned on the labels) under the tongue for 45 seconds. You can also add a few drops to a drink or food.
In HARBL's online shop, you can buy our formulated EFFECTs oils designed for specific ailments as well as our Pure CBD Oils in different concentrations. 
Choose your HARBL Effect
Cannabinoids (CBD, CBN, CBG) and essential oil formulas targeting specific modern psychological and physical symptoms.

Noemie Laude
It is difficult to describe in a few lines how Relief creams have changed my life. I have been suffering from severe back pain for 12 years, twice operated, prosthesis and fixation of two vertebrae, the damage to my body due to heavy medication treatments is a daily burden. After two days of using the Relief cream, warm in the morning and cold in the evening at bedtime, I was moved to tears by the incredible effect of this anti-inflammatory cream. This warmth that spreads for a long time, this relaxation on my lumbar vertebrae is just magical. I have never had these results and I have thrown away my medication !!!!! I am going to start CBD oils to heal the internal damage caused by years of treatments and can't wait to come and testify...people who are already taking these oils are all reporting their incredible effects. This encounter with this product has changed my life...over to you now!!!

Véronique Blum
Going through a turbulent period, I was looking for a natural product that would allow me to relax and ease physical and mental pain. Thanks to HARBL Relax, I have found a peaceful way of thinking and a gentle sleep... One dose in the evening at bedtime.
Mrs. Jeton
Some time ago I bought some Harbl Relax for hay fever. Harbl Relax works much faster and better than the medicine prescribed by the doctor. I am very happy that it has no side effects, I can take a few drops and it works! I will recommend it to others and buy it from you again - thank you and keep up the good work!
Sven Hofer
My name is Sven and I am 25 years old. In my free time I like to do a lot of sports specifically Cross-fit and I am very active in general. Over the past 2 weeks I was using the Harbl Relief warm and cold creams quiet frequently because I had some muscle and joint issues resulting from my training regime. Since I am using the two creams, I felt an immediate improvement in my joints as well as a big relief regarding my muscle tension. I also realized by accident, that the Harbl Relief cold helps enormously with mosquito bites. The itchy feeling and the swelling you experience after a mosquito bite were both almost gone after one application of the Harbl Relief cold cream. I can only recommend trying the creams because they are the most effective warming and cooling creams I have tried.

Raphael Dias - Musician
During my holiday in the south of France, I had a lot of mosquito bites and I was really starting to despair as these bites became more and more itchy... A friend of mine had a HARBL 2000 CBD oil and suggested me to try it. Around 10 minutes after having rubbed a drop of oil onto the mosquito bites, all itchiness had completely disappear.

Steve Schroeter
Working in retail and handling pallets for years, my back had become painful. I tested the HARBL Cold & Warm creams. I switch them around depending on my activity, and one application gives me almost instant relaxation and well-being in all the back tensions. I highly recommend these products.
Sebastien Bolle
I was lucky enough to discover the HARBL DREAM product. After months of restless nights and night-time awakenings, I found a peaceful sleep and a certain serenity by taking 1 pipette of HARBL DREAM at bedtime. I highly recommend this natural Swiss-made product.