Harbl Effect
Cannabinoids (CBD, CBN, CBG) and essential oil formulas targeting specific emotional and physical modern tensions
Discover HARBL Swiss Botanic innovation's products, as well as the therapeutic virtues of cannabidiol and its uses. Our cannabinoids essential oil is available in a 30 ml child-safety dropper bottle for a more precise dosage.
Our team extracts cannabidiol with CO2 before dissolving it in 100% Bio Hemp seeds oil which has been refined to remove the bitter taste but keep all its nutrients like Omega 3, Omega 6 and vitamin E.  
We produce all our CBD oils without any added artificial substances in Switzerland.
Our Cannabidiol oils guarantee extraction from organic hemp grown without pesticides or other harmful products.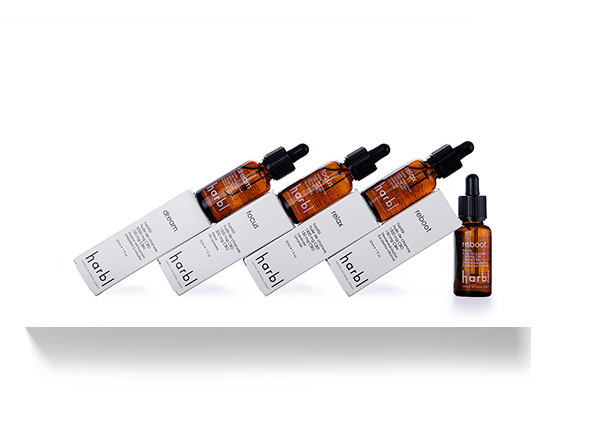 CBD appears to have many benefits for improving certain physical and/or mental health problems. Various scientific studies have shown the benefits of CBD in the following situations: Anxiety, depression, cramps, inflammation, chronic pain, migraines, nausea, insomnia … 
CBN (cannabinol). Research has shown that CBN has a greater affinity with CB2 receptors, making it useful as a mild sedative, increasing relaxation and relieving pain and inflammation.
CBG (cannabigerol) A minor constituent of hemp, similar to CBD. Recent research indicates benefits for inflammation and stimulation (neuro). It has been identified as the "mother" of all cannabinoids, and is responsible for the synthesis of the entire spectrum. It enhances the effects of other cannabinoids.
Effects of cannabidiol and cannabigerol
Hemp contains active ingredients that are believed to have many health benefits. This is particularly the case with cannabidiol (CBD) and cannabigerol (CBG). The combination of these two non-psychotropic cannabinoids offers a real sense of well-being, without an exaggerated high or a high risk of addiction.
According to recent scientific studies, cannabidiol reacts positively with the human body's endocannabinoid system. Its ingredients could relieve pain, stress and anxiety, but also promote sleep.
In general, the CBG oil + CBD would be a natural solution to relax your muscles and mind. Relaxation will undoubtedly be there!
Cannabidiol would also have anti-inflammatory, antispasmodic, anxiolytic, anticonvulsant and neuroprotective properties while cannabigerol would have an energising and stimulating effect.
Many people use CBN oil + CBD as a natural antidepressant and relaxant.
We recommend that you seek the advice of your doctor to treat any pathology with oil that combines cannabidiol and cannabinol or cannabigerol.
How to use HARBL EFFECT oils
Formulated CBD Oil has become one of the primary methods of delivering cannabinoids to humans. HARBL offers you its CBD oil in a practical, elegant and easy to carry child-safety dropper bottle. This container also allows for more accurate dosing.
It can be ingested by holding a few drops (as mentioned on the labels) under the tongue for 45 seconds. You can also add a few drops to a drink or food.
In HARBL's online shop, you can buy our formulated EFFECTs oils designed for specific ailments as well as our Pure CBD Oils in different concentrations. 
Choose your HARBL Effect
Cannabinoids (CBD, CBN, CBG) and essential oil formulas targeting specific modern psychological and physical symptoms.

tania periera nion
Hello, I had a lot of digestive problems and gluten/lactose intolerance. I tried Harbl 4000 which made my stomach swell up already after a few days. Since then, I can't do without these drops, which not only give me vitality, but also take care of my body from the inside and above all allow me to eat what I like. Thank you Harbl
eric jacquin
59 years old, regular runner, I felt a sharp pain in my knee after a long session on hard ground. It could be tendinopathy. The pain was acute and prevented me from putting pressure on my leg. Combined with a full day of rest the next day, the relief cold and warm products quickly gave me relief. I appreciate having a natural remedy for everyday bruises and injuries. I recommend both products.
matthieu daumas
Great product! The Relax product is very good to find a serenity of the spirit and a relaxation of the body. It's great!

sebastien bolle
I started 3 months ago with the Dream, due to night wakings that prevented me from having a good night's sleep. Having resolved this problem with the Harbl Dream, I switched to the Harbl 4000. With this one, my back problems, which were already solved with the Dream, are gone and my digestion problems have been greatly improved….🙏

branko radosevic
Again and again I had to fight with an inflamed acchilles tendon, which affected me very much in sports. I tried everything (anti-inflammatory creams from the pharmacy, ice, shoe inserts, painkillers, etc.) and nothing helped. I then tried Harbl Relief Warm on the recommendation of a friend. I don't know what happened and I honestly can't believe it, but I am absolutely pain-free since then and can only recommend it to every athlete who struggles with such problems. Thank you Harbl!

Justine Arlot
Working in the restaurant business, I have been suffering from knee pain for a long time. After 3 days of application of harbl relief cold on the knee and despite 6 hours of standing, no more pain. Can't wait to continue using it!
Fiorella Censi
"...As for my son Bryan, since he has been taking the Dreams every night, night wakings have become rare. I recommend these products!"