Regenerating anti-inflammatory CBD effect gels
Regenerating anti-inflammatory CBD heat and cool gel concentrate combines with cooling or heating effect, pure Arnica and Devil's Claw extract to relax muscles and joints, providing rapid, lasting pain relief and mobility to the treated area.
CBD (cannabidiol) is known for its regenerating, anti-inflammatory, pain-relieving properties for muscles and joints.
It acts on inflammatory muscle and joint problems, rapidly improving mobility.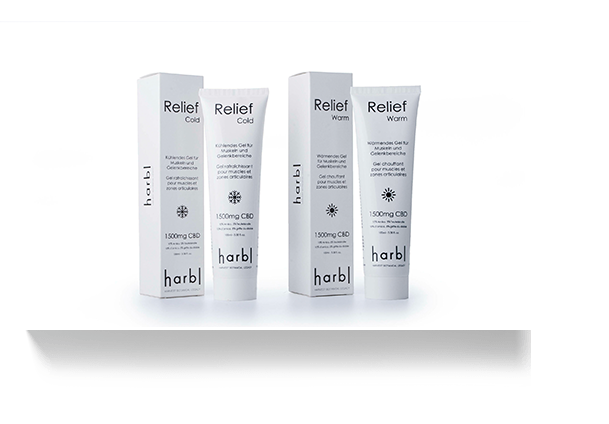 Harbl Relief
Natural CBD heat and cool gel with targeted muscle and joint pain relief
10% Arnica montana extract
Arnica comes from the perennial Arnica montana, a yellow-orangish flower that grows in the mountains of Europe and Siberia. With anti-inflammatory and pain-relieving action thanks to the presence of sesquiterpene lactones. It reduces swelling, protects capillaries and relieves pain caused by stretching or contractures.

5% Pure devil's claw extract
Devil's claw is a herbal supplement primarily used as an alternative  treatment for arthritis and pain. Devil's claw has been proposed as a potential remedy for inflammatory  conditions because it contains plant compounds called iridoid glycosides, particularly harpagoside.
Thanks to particular Harpagoside molecules, it is particularly indicated for osteoarticular problems and  muscular inflammation.
Grapefruit extract active ingredient that promotes cell regeneration and improves microcirculation, firming the tissues  of the epidermis. It has an antibacterial and antiseptic action.
Menthol & eucalyptus essential oil
Antibacterial and decongestant action; acts in synergy with menthol to give a  soothing and calming fresh effect.
Active ingredient with moisturising, elasticising and toning action on the skin tissue
Rich in fatty acids Omega 3 & 6, it is a natural antioxidant, anti-inflammatory and immuno-modulating remedy with a soothing activity

Choose your HARBL Relief
Natural effect gels with CBD targeting muscle and joint pain relief

coralie bouchage
A small miracle..... I have been treated for migraines since I was a teenager, and for more than two years I have been taking powerful anti-inflammatory drugs which have the side effect of irritating my digestive system. My neurologist reduced my treatment and I tried Harbl 3000 as a complement. I was able to reduce my seizures and headaches after 2 weeks of taking it, less anti-inflammatory medication, and therefore a much less swollen stomach. I am delighted to have discovered this product and I am looking forward to seeing the long-term effects. It's my little miracle that allows me to touch an "almost" normal life with my fingertips. Thank you!

Evan Laude
I have only been taking Harbl Focus for 10 days and already feel I am concentrating much better. It helps me a lot !

silvana cassaretto
After years of working on myself, my encounter with Harbl came into my life at just the right time. Digestive and intestinal discomfort persisted despite the change in my lifestyle. My sleep was very light and unrestful. Within 48 hours of taking the hemp oil 3000, the effects were already palpable on the digestive side, no more tension, no more cramps and a transit that listens to what needs to be eliminated ;). During the week, I noticed that I slept more deeply and easily 6 hours in a row without waking up. The combination of Harbl products have given me the stability that was missing in my daily life. The creams are also exceptional, especially the "relief cold" and "relief warm" which have become indispensable to me after volleyball training.

Steve Schroeter
I've been using Reboot for 2 months now, taking my pipette before going to work and I feel fit and full of energy. I highly recommend this fantastic product!

tania periera nion
Hello, I had a lot of digestive problems and gluten/lactose intolerance. I tried Harbl 4000 which made my stomach swell up already after a few days. Since then, I can't do without these drops, which not only give me vitality, but also take care of my body from the inside and above all allow me to eat what I like. Thank you Harbl
eric jacquin
59 years old, regular runner, I felt a sharp pain in my knee after a long session on hard ground. It could be tendinopathy. The pain was acute and prevented me from putting pressure on my leg. Combined with a full day of rest the next day, the relief cold and warm products quickly gave me relief. I appreciate having a natural remedy for everyday bruises and injuries. I recommend both products.
matthieu daumas
Great product! The Relax product is very good to find a serenity of the spirit and a relaxation of the body. It's great!